Franchise Opportunities

Restaurant Ownership that is affordable,
profitable, and rewarding!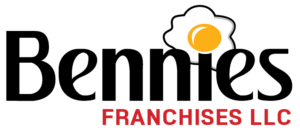 We're improving the breakfast and lunch industry and we'd like you to join us. We're looking for entrepreneurs who love creating great food, enjoy serving people, and want to own their own business.
Earn a great living, build an asset for yourself and the community, and be home for dinner every night. If this seems like your type of business, we hope you'll consider becoming a Bennies franchisee.
Rethink Restaurant Ownership
Restaurant ownership does not have to mean long hours and a work-life that is out of balance. Bennies has been structured differently. We've developed a restaurant concept that's simpler to operate and more enjoyable. And here's why:
The restaurant can be open about 33 hours per week
Open and close your restaurant in 30 mins.
Smaller retail space (800-1,400 sq. ft.) and minimal buildout (tenant improvements) means lower startup costs
Equipment needs are "leaner" meaning no fryers, hoods or grills required
The business system was developed over several years at multiple restaurants. It's proven, easy to learn, and implement
A French Canadian-inspired menu based on fresh healthy food delivers variety but uses fewer ingredients and minimizes waste
Recipes are simple will enable you to produce consistently excellent food
Express your own creativity with weekly/daily specials
Increase revenue by serving cocktails, extending hours, or adding work days.
Innovating Breakfast & Lunch
The breakfast and lunch restaurant sector is growing. There's a valuable market opportunity for restaurants that embrace simplicity and focus on delivering consistently great food.
Bennies uses quality ingredients and combines them with creativity and care. We apply innovative cooking techniques that don't require a lot of expertise and expensive equipment. You'll be quickly and consistently making delicious food.
And your customers will love how the food is presented. Bennies is that little breakfast and lunch place that surprises everyone!
Why Bennies?
The first thing you'll notice when you visit a Bennies restaurant is the fun, welcoming vibe that's created with thoughtful restaurant design, warm colors, and enjoyable music.
You'll be greeted by staff members who've been trained in customer service and enjoy what they do.
You'll choose from a variety of food and drink options that are uniquely flavored. Your order will be prepared quickly and most menu items are made fresh, in-house. The plates are eye-catching, the portions are notable, and you'll love how the food tastes.

Bennies Franchises

Our Mission: Your Success
The power of the franchise model is that we are in this together. We'll be collaborating, supporting each other, and working to achieve your goals.
You'll find our organization to be organized, responsive, and focused on continual improvement. We've implemented systems to ensure that you get the assistance you need, when you need it.
Here's what you can expect from us:
Comprehensive Training
Hands-on learning at our location and yours. Training includes everything from kitchen operations and customer service techniques to using your POS system, managing inventory, leading staff and administering finances. We provide refresher courses and support for the lifetime of your franchise ownership.
Opening Support
The Grand Opening of your franchise is an important event. We'll be there prior to, and during your launch, to make sure you have onsite help from an experienced trainer.
Operational Support
Ongoing training and support is provided in areas such as: unit operations, maintenance, product ordering, pricing guidelines and administrative procedures. Our goal is to be an expert source of information and feedback to help you solve problems.
Purchasing Power
You'll be able to leverage our vendor relationships and volume purchasing power to secure discounts and lower your overall food and inventory costs.
Marketing Support
The quality and consistency of the food and service you'll be providing will generate word-of-mouth buzz and organic referrals–the most effective marketing a restaurant can have. We'll provide guidance on website and social media strategies that have worked well for the corporate-owned location. We also include access to a variety of marketing collateral.
Continuous Improvement
We strive for continuous, ongoing improvement. As a franchisee, you'll be a key part of that process. We are building an organization that collaborates, communicates, and cares for each other. We will continually look for ways to help you leverage our vendor relationships, streamline operations, and enhance unit-level profitability.

Franchise Fee: $39,000.
Royalty Fee: 6% of gross sales.
Advertising Fee: None.
Estimated Investment: Bennies Franchisees should have $120,000 – $219,333. (includes the Franchise Fee) for investment capital (cash) to account for startup costs, operational expenses, and marketing.
Restaurant Size: Operate in a compact, efficient facility: 800-1,400 sq. ft.
Financial Qualifications: Candidates will need a minimum net worth of $250,000 and solid credit.
Owner-Operators Thrive
Being an owner-operator of a Bennies restaurant is ideal. We'll coach you on all aspects of the business. You'll hire a small, capable team to help you. You'll be keeping your payroll costs down and earning a valuable wage as you build your business. You'll have full control of the operation and be able to make those incremental changes that accelerate success.
Bennies offers multiple ways to increase revenue and profitability by extending business hours or adding a cocktail menu.
Want to Know More?
Our team wants to hear from you! To get started, fill out the form at the bottom of the page and let us know your level of interest. We'll send a brochure for you to review.
We look forward to discussing the opportunity and answering your questions.

FAQs

Frequently Asked Questions
What makes Bennies an outstanding business opportunity?
Depending on the amount of time you want to invest, you can run a "lifestyle" business, or add operating days and extended hours to increase revenue. Our time-tested menu uses wholesome, high-quality ingredients and is simple to execute. You won't require skilled chefs to make excellent food.
Bennies was structured for stability and profitability. We'll give you the tools, the guidance, and the ongoing support to succeed.
What are the characteristics of successful franchisees?
We're looking for well-rounded, hard-working, social leaders who thrive in a high-paced environment. You may have previous cooking skills or kitchen experience, and you like following systems. You are an outgoing entrepreneur who loves making great food and serving others.
Or you may be an investor looking for new, high growth opportunities.
Does Bennies Franchises offer financing?
Bennies Franchises does not offer direct or indirect financing. We will not guarantee your note, lease or other obligation. We can, however, suggest options to secure needed capital. 
How long does it take to launch a Bennies?
We estimate a 3-6 month time period to launch the business after contract signature. This includes selecting a location (we'll help), performing minimal buildout, obtaining equipment and supplies, and training.
What type of initial coaching and support does Bennies Franchises offer?
Location – We'll help you find an ideal location in your area of interest, and negotiate a favorable lease. This is a key aspect of launching a restaurant that has a huge impact on future success.
Buildout – We provide specific instructions on how to buildout and design your space.
Training – From start to finish, the typical training process lasts 3-4 weeks. It includes: service, food preparation, kitchen management, inventory, and business management.
Pre-Opening + Grand Opening Support – We'll be at your restaurant to help you best prepare prior to your Grand Opening launch, and for the week afterward.
Marketing – We'll guide you on how to create your website and social media channels. We provide a variety of approved marketing content.
Operations – You'll have direct access to a field consultant who will answer questions, support you, and be your point of contact to our organization.
Do I need to live in the area I want to own a restaurant?
Yes. You or your operations partner must reside in the area you want to operate a restaurant(s).
How many employees are required to run a Bennies restaurant?
You'll eventually need the equivalent of four (4) full time employees: manager (who can perform all duties), lead cook, prep cook, and barista/server.
Who started Bennies?
Bennies was first launched in the Tri-Lakes YMCA in Monument, Colorado in June 2021 by Founder and Owner, Caroline Bilodeau. Since then, we have steadily grown from a few customers to hundreds that visit each day.

1. The First Step to Bennies Ownership
Complete our online form below. We'll send you our basic informational kit.
2. Schedule an Introductory Call
The next step is to schedule a call to discuss the opportunity, the requirements, and answer questions. We know you'd like to learn more about us and we want to learn more about you too.
3. Experience the Difference
Bennies invites you to visit the corporate-owned location so you can experience the atmosphere, taste the food, and see the system in action. Discovery Day is your chance to observe operations, ask more questions, and really determine if this venture is a great fit.
4. The Contract Process
Our team will send you a copy of the Bennies Franchise Disclosure Document (FDD) for your review. You'll have 14 days to review the FDD and evaluate if the price and terms are agreeable. If you feel like this is the opportunity you've been looking for, and we feel the same, it's time to finalize a contract
5. Apply for Financing
After you've had a chance to review the FDD, if you require financing, we recommend applying now. We can offer recommendations.
6. Finalize an Agreement
We'll send you the Franchise Agreement (FA) and other documents to sign. Franchise fees are due at this point.
Welcome to the Team!
Congratulations, you are now an official Bennies franchise owner, and a member of our growing team! Let's get started.
Schedule the Kick-Off Meeting
We'll schedule a kick-off meeting to develop a project plan, outline various action items and tasks, assign responsibilities, and get your restaurant up and running.

Ready for more information?

Please complete the form below
aDDRESS


17230 Jackson Creek Pkwy,
Ste. 100
Monument, CO 80132