A Little History of Bennies

About Us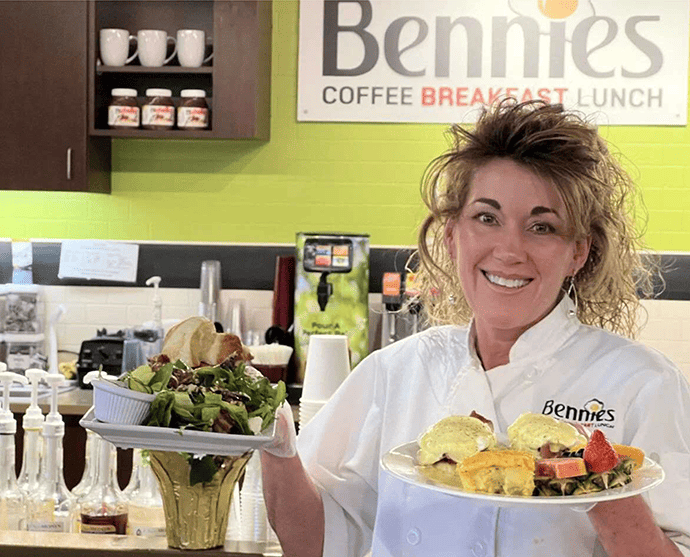 A passion for business and unique, flavorful food
After graduating from Montreal University (Quebec, Canada), I decided to travel the U.S. in search of opportunities. I crossed the border in my old Chevy Blazer, with five hundred dollars, and a limited ability to speak English. Incidentally, English class was the only one I ever failed!
I visited 28 states before I ran out of gas and money in the beautiful city of Denver, CO.
When I realized that creating a job for myself felt more natural then trying to find one, I simply went for it. My first business was designing and selling custom greeting cards for various 7-11s. I sold just enough cards to pay off my student loans.
I then decided to purchase a franchise in the women's fitness industry. I grew the business and eventually added a second location. Through this process, I realized that I had a passion for business, but that my true love was food. I decided to take another chance and move in a different direction.
I purchased a little coffee shop in Palmer Lake called Speedtrap. I was able to transform this sleepy cafe into a busy bistro and local favorite. We offered a full-service bar, live music, and a unique menu with flavors from Montreal.
My restaurants give me tremendous joy and always feel like an extension of my home. Bennies is another opportunity for my staff and I to provide flavorful, affordable food to our community.
We cook simple recipes using high quality ingredients. Our goal is to create food that you will crave once you've tried it.
We take pride in our work and enjoy providing a place where nice people can gather or simply relax.
I've had the privilege of serving coffee and fare to the Tri-Lakes area for many years now. A few things haven't changed; my French Canadian accent, my ability to make anyone love a quiche, and the joy I feel in the morning when our first customer walks in.
On behalf of my team and I, thank you for your visiting and being part of our café family!
Caroline Bilodeau
Owner and Chef de Cuisine