Customer Comments

Testimonials
Amazing service! Great atmosphere. Food was delightful. I ordered the Chile Bennie SO YUM and great prices. The iced ultimate caramel latte was delicious as well. We will be back!! Make sure to try their toast too. It's made in house and just chefs kiss delish.
– Tay
I have now eaten at Bennies four times and every time it has been spectacular. The first time I came in for lunch I asked if there was outside seating and they were so gracious to move a table outside for me. I do wish outdoor seating was available without having to ask.
The patio is perfect for breakfast, lunch, or coffee and pastries. The gruyere quiche, bacon avocado sandwich, and tomato basil flatbread have all been fantastic, and each time I've had the house salad along with my main course.
I didn't expect a lot the first time I ate here, but now I know that Bennies is Monument's best kept secret!
– Jenny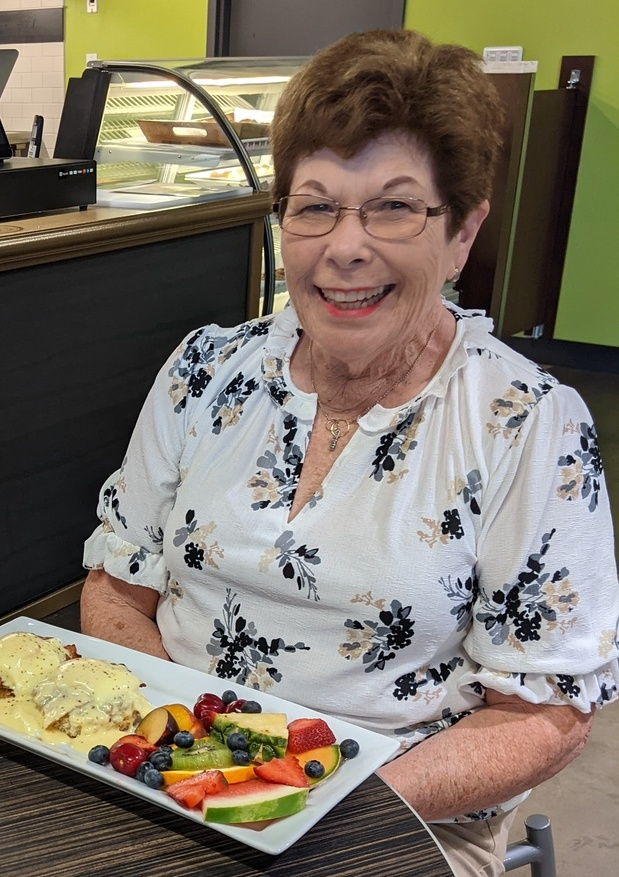 A pristine plate arrived with a bright rainbow of fresh fruit circles and triangles, snuggled against traditional Benedict ingredients. Hiding a hint of green chiles, topped with lovely poached eggs, and covered with a unique Hollandaise sauce, the meal was so inviting to the eye, but even better to eat. Bennies is not to be missed!
Traveler Review. We are trying the top rated restaurants and coffee joints on our trip. Here is what we found! These guys know what they are doing!! Amazing. 
Connected to the Y. Eggs Benedict, avocado toast with fruit, and a breakfast burrito. My 12 yr said his burrito was the best burrito he's ever tried. The coffee was on point! We'll be back for lunch tomorrow.
Husband, 12 year old son, and myself have been visiting Colorado Springs/Monument, CO for 3 days and today is our last day to do one last meal. So without much discussion we are day 2 of Bennies breakfast.
We have had an amazing trip so far and have felt very welcome. That said. The Bennies Fam is so friendly. Second morning here, they welcomed us back in, knew exactly who we were and took the time to really make a lasting impression on our family.  Already planning our next trip back and Bennies is on our list.
In its entirety. Bennies, we give you the chef's kiss!
– Inside-out-creations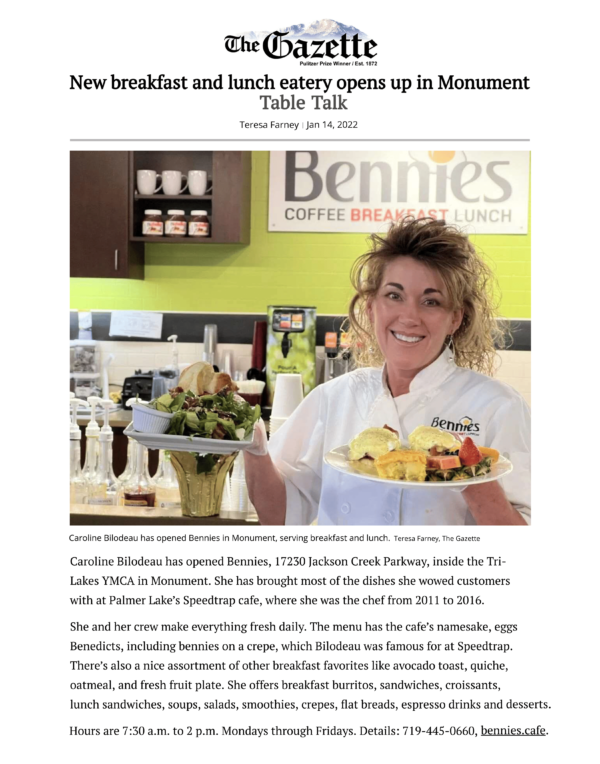 Thank you Bennies for the best Cobb Salad of my life! Super friendly staff!
– Ben S.
Seriously the best eggs Benedict I've had in years. I devoured half of it before thinking to stop and take a photo! The menu offers a green chili eggs Benedict, so I ordered off menu and also switched the ham for bacon (I know, I know, don't judge
They had no trouble accommodating me at all. The eggs were cooked perfectly and the hollandaise sauce was phenomenal. My son had a cinnamon roll, and it was so good he ordered a second one (teenage boys and their blessed metabolisms)! My caramel macchiato was also perfect. The owner and service are friendly and welcoming. This place is a must!!!
– Kim S.
Clean, reasonable wait time, customer service was attentive, and the quiche and fruit were very appetizing. I'll be back.
– Dean K.
So delicious! We ordered the Breakfast with 2 scrambled eggs, bacon, fruit, potatoes, and home-made toast and two orders of the Goodness Bowl.  All of our food was so delicious and fresh!  The fruit in the goodness bowl was sweet and combined with the nuts and granola made it the most perfect breakfast!
The home-made toast was probably the best toast we've ever had!  The cheesy potatoes was more like a casserole than your standard potatoes most places just throw on your plate.  These potatoes were so flavorful and unexpected!  We ate everything up and wanted to lick the bowls and plates it was so good!  We'll be back for sure!
– Bee G.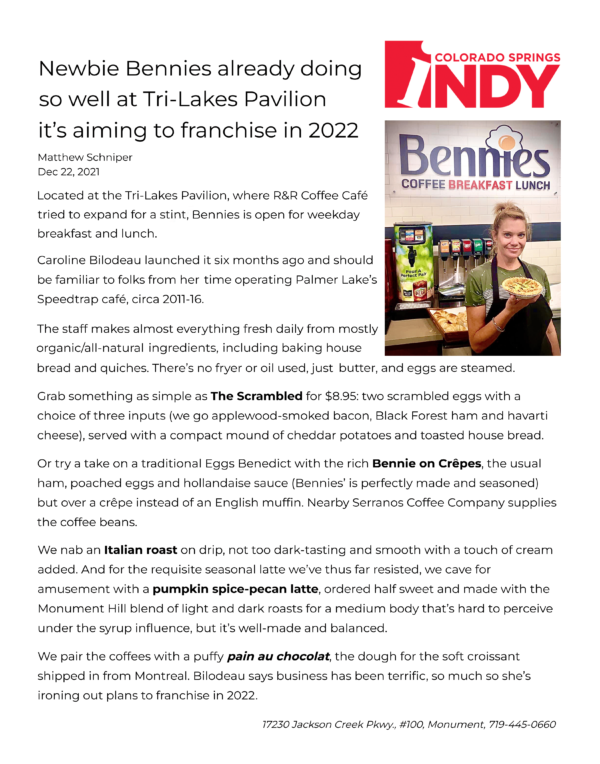 Amazing food, coffee and service. A new local gem.
– Lance P.
Smelled it when I walked in the door. Fruit is all fresh cut and diverse. House bread is awesome. Crepes and smoothies are stellar!!! Will definitely be coming back.
– Reese C.
Had breakfast at this little gem today. Our Benedict's were perfectly cooked and scrumptious with the potato bake and fruit. Our white mocha and cocoa were like warm hugs in a cup. We took croissants home for later.
Sweet staff and an amazing chef who actually knows how to cook eggs properly. Can't wait to come back ! Thank you again!
– Kimberly K.